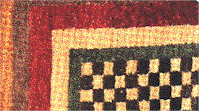 These classic Tibetan designs exemplify our inspired recreations of an antique collection which once adorned the aristocratic estates of Tibet. Woven in Tibet from handcarved and handspun Tibetan highland wool. Available in four categories of designs: Geometrics, florals, symbols and wildlife in standard and customized sizes.
Due to political change in Tibet from 1959 through the early 60's, thousands of Tibetans settled in the Kathmandu Valley after having made the long trek through the Himalayan Mountains. For centuries, Tibetans have been weaving and using carpets as bedding, saddle blankets and meditation mats in monasteries. As a means to making a living in a new land, these hardy Tibetan refugees received the support of the Swiss government and began a cottage industry of carpet weaving. This industry was intended to sell rugs to the growing tourist trade in Nepal. During this period, most of the carpets produced were traditional designs in small sizes.
In the late 70's, floor-covering buyers from Germany came to Nepal and began purchasing plain field (border only) designs in larger sizes. Within a short period, the German market became the hub of distribution throughout Europe. Due to the high demand of European buyers during the 1980's, Tibetan carpet production in Nepal became the nation's second leading industry. During this time, a few leading American importers began the importation of Tibetan rugs made in Nepal, with specific design and coloration ideas for the American market. To this day, Tibetan rugs have become a leading commodity within the hand made floor-covering market in both Europe and the United States, and continues to grow in popularity internationally.
---