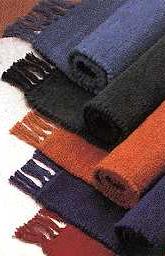 Throw rugs have been around for decades. Call them what you please ... area rugs, throw rugs, scatter rugs ... there's a vast assortment available from every part of the world. The term "rug" generally applies to a handmade piece, while the term carpet refers to goods made by machine. Buy wall-to-wall carpeting and have it cut to any size, add borders, and have the edges bound. Or select from any number of types and patterns available, either inexpensive copies or valuable collector's items. Let your tastes, needs, and budget direct you.
Throw rugs are a favorite in the kitchen. Right in front of the sink, where you generally stand and clean dishes is a perfect place. Especially when ceramic tile is used in the kitchen is this more important. Tile is very slippery when wet. By having a rug directly in front of the sink area, any water will be absorbed by the rug, instead of creating a slip hazard by getting directly on the tile floor. Eventually, the rug will need to be cleaned and this can be done by spot cleaning with a good spray carpet and rug cleaner, or by simply throwing it into the washer.
Throw rugs consist of oval, round, heart shaped, rectangle, and slice-half circle shaped. Bath rugs, toilet contour rugs, and toilet seat covers are also available. Bath/ toilet throw rug sets can be made to include toilet rugs, toilet seat covers, bath mats, sink slice throw rugs. They are also used very effectively in the foyer or entrance areas of your home. This way, your company can wipe their feet upon entering the main area of your house and you can easily shake out or vacuum the rug to get rid of loose soil and dirt. You can also machine wash most throw rugs, and restore them to like-new condition. Be sure and check the cleaning label that will be attached to your rug for specific cleaning instructions.
Holiday throw rugs can be specially selected to bring cheer to your home. Buy a few of one rug or mix and match them all for a festive decor right down to your toes. The portability of throw rugs makes them very easy to roll up and store for use at a later time. Be sure to store them in a climate controlled area of your home to prevent mildew damage.
Throw rugs can offer a perfect home decor accent.
---