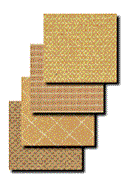 Sisal rugs make an interesting and comparatively inexpensive flooring. A sisal rug also provides a neat surface for modern furniture, as well as making good unifying background for a mixture of old and new pieces. Sisal rug usually comes in natural colors, but can be dyed. Dust and dirt usually fall through the sisal rug which can be lifted up for cleaning.
Because sisal rugs are made from plant fibers, you will find that most come in natural colors like cream, light yellow and beige, however some will have a natural red tinge. The most sought after sisal rugs are in fact those that have the lightest color, as near to pure white as possible. Despite this, it is possible to dye sisal so some suppliers will stock alternative color options.

Sisal rugs are made from the leaves of the 'Agave Sisalana' plant which is native to Central America although now cultivated all over the world. The Agave is sometimes referred to as the American Aloe or the Century Plant. The plant has wonderfully long, dark green fibrous leaves, perfect for creating a hard wearing rug for the home. The fibers are stripped from the leaves, then dried and treated before being woven into beautiful designs, from standard flat weaves in one color to complex ribbed weaves incorporating a variety of shapes and colors.

Because sisal fibers can be fairly course, softer materials such as wool and cotton are often added to it to produce a softer and more comfortable rug. Even when this technique is employed, the sisal rug will continue to be exceptionally hard wearing. You will find that dirt naturally falls through the thick weave, so they are perfect for use on tiled or wooden floors where they can simply be lifted up and any debris swept out from beneath.

Sisal fiber are also available from plantations in East Africa and Brazil. East African sisal is woven in Belgium, and widely regarded as the highest quality due to it's characteristic long fiber and consistent coloring. Brazilian sisal represents a great value, and an appropriate low-cost substitute for European sisal. It's quality is consistent with most of the sisal rugs available in the market -hopefully at a better price.
---