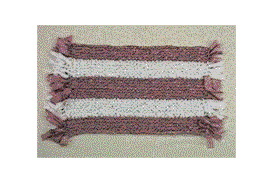 Rag rugs have been with us since the discovery of - well, a collection of rags! Originally, rag rugs from a long time ago were made from torn rags or old scraps of clothing. So, sometimes a wide choice of colors wasn't readily available. They were more of a functional and practical floor covering and not too much attention was given to the decorative nature of the rugs. Although decorative tapestry style rugs were around at the time, only the wealthy could afford them. Remains have been found in ancient Celtic & Viking homes; our ancestors didn't waste an excellent resource like old clothes when there was no double-glazing, or, in fact, no glazing at all.
Rag rug making was popular in Colonial times when they were woven with rags, hence the name. However, today we use new fabric. They are reversible and washable. Very durable and last a long time. They become heirlooms and are passed down in families.
There are as many ways of making rag rugs as there are rug-makers. In the old days, rugs were nearly always worked on hessian (sacking) or burlap, but are often made on canvas now. Felted wool was usually the main or only fabric used, but we have a vast range of different materials available to us, not all of them fabric! You can use just about anything you can cut into strips, as long as you think it will stand the wear & tear a rug will get.
Cotton rag rugs are charming for vacation houses, ranches, beach houses, informal cottages and apartments, and children's rooms. Rag rugs consist of irregular stripes in bright cheerful colors. Rag rugs are cheerful, handmade rugs produced using scraps of fabric or wool. Antiques - especially early North American rag rugs - can be expensive, but their modern equivalents are much more reasonable.
At an Estate sale or an auction, you have come across what looks to be a true collectable. Is it really a true vintage rug? Chances are it is just an old worn rug. The introduction of polyester came after 1950. Making an alternative for brightly colored fabrics. A cotton/poly blend with the introduction of better dyes make the decorator fabrics of today. The art of making rag rugs is not lost. In fact, the novelty of crocheted rag rugs is much more popular and they tend to be easier to find than they were 20 or even 30 years ago. With the introduction of the World Wide Web...anyone looking for rag rugs can find one. There are many web sites that will custom make them. Knowing these factors might help in finding that special rug. But, don't worry unnecessarily that you might not have an antique rug. An old rag rug still costs much less than a new one and will still have a few good years left because of the wear and tear they can take.
Today, Rag rugs can take any abuse a family has to offer! Those dirty shoes coming through the back door, to food spills in the kitchen. And just think of the comfort afforded you as you stand on a rag rug while washing dishes in front of the sink. Just what the doctor ordered after a long day's work. And since they are machine washable, it makes them a no-hassle type of area rug. Each rag rug can be coordinated to match or compliment most home decor to accessorize any room of the house. No matter what you have down as a floor covering, hardwood, laminate, vinyl, tile, natural stone or marble, or wall-to-wall carpeting, floors are greatly enhanced when accented with a beautiful rag rug. Try using them in bathrooms and see what a difference it makes in brightening these areas as well. You have nothing to lose.

---