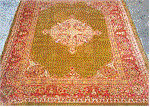 Indian rugs have evolved over the centuries to suit a variety of tastes, climates and budgets. The woolen and silk carpets are more renowned compared to the other materials such as cotton and several vegetable fibers, which are used for making attractive and practically useful mats and durries. In the early stages, the motifs used in the Indian carpets were purely Persian. Later, various other designs were introduced from Afghanistan, Turkey, China, Morocco and France. Gradually, the pile carpet industry was Indianised and assumed a character of its own. Each region developed a distinct style of carpet weaving.
In the mountainous regions of India, from Ladakh through Darjeeling in West Bengal and Sikkim to Manipur, carpets are made of pure wool in glowing colors. The predominant motifs are those of the dragon, snow-lion and lotus. Patterns from Indian rugs are also taken from Buddhist iconography with dhawaja (flag), the kalash (water-vessel) and the twin fish being favorites. Carpets from these regions are based on techniques that are as distinct as the motifs. These are essentially Central Asian in tradition. For over 2500 years the patterns reproduced were those of flowers arabesques and rhomboids with an occasional animal design. The patterns have never become outmoded. Some motifs have a profound meaning: the circle signifies eternity, the zigzag water and light, the swastika darkness and the tree happiness and goodness.
The origins of hand-knotted carpets can be traced back more than 2000 years. In India, the hand knotted carpets appeared in the 15th century. In Kashmir it attained a high degree of perfection especially in the 16th and 17th centuries under the Mughal emperors. Wool is the basic material but in Kashmir silk is also commonly used not only for the pile but also for the warp and weft. Sometimes silk or cotton is used for the warp with quality wool pile for weft. The appearance and number of knots on the back of the carpet indicates the quality. Among the hand knotted ones the Bokhara Carpets are one of the finest with about 125-500 knots in a square inch.

Every winter, Kashmiri carpet vendors with small carpets piled high behind their scooters or motorcycles (the wealthier ones have cars and, consequently, bigger carpets) are a common sight in Delhi and other big cities in northern India. Since they have no shops in these cities- being temporary residents while the cold winter puts an end to tourism and business in Kashmir -they go from house to house in the hope of finding customers. These vendors often agree to clean old carpets, but of course it is usually only a known person who may be trusted. They are often on the look out for old carpets and many an interesting bargain can be struck, an old for a new. Only the shrewd Kashmiri knows how he can make a profit from the old one.
---