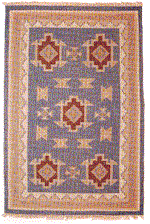 Dhurries are cotton rugs from India. They come in a huge variety of combinations of light pastels or bright colors. Their patterns are unique and reversible. Dhurries are extremely "hot" right now and can be found in any size you might need. Prices will vary with quality and size.
Inexpensive, reversible, casual and easy to live with dhurries are available in a wide range of colors, as well as in a stonewashed finish. Made of hand-woven cotton, dhurries are not advisable as heat insulators in the winter. Although Dhurries are made of cotton and therefore washable, strong colors are likely to run if put through a washing machine; gentle hand-washing should minimize the risk of shrinking.

In recent years there has been a growing demand for durries both in India and abroad. The durry is a cotton spread without piles, which traditionally comes in two varieties: one that is used on the bed instead of a mattress or below a thin cotton mattress and the other which is used as a floor covering. The former variety is smaller in size and is made on a pit-loom while the latter is made on an elementary loom called an adda.

The technique of durry weaving can be seen in its most primitive form in the villages of Rajasthan, Punjab and Haryana where girls are normally put to the task at an early age so that they can prepare rugs that will form part of their trousseau. In contrast, girls in Navalgund, a village in Karnataka that produces a small number of unusual durries, are never taught the craft lest they spread the skill outside the family after marriage. Durries come in numerous designs although the most common are stripes of different colors and geometrical designs. Sometimes animal and bird motifs are also used. Fine durries in brilliant colors made of cotton and silk have become a speciality of Salem (Tamil Nadu) while those made of jute fiber are woven in West Bengal.

The modern Indian housewife often tends to prefer durries to carpets. Durries are lighter and easier to maintain and can usually be washed at home. They are suitable for a hot and dusty environment and being less expensive they can be replaced every few years. This does not mean that durries are not long lasting. People even have durries that have lasted for about twenty years and in spite of several washes still look good.
---