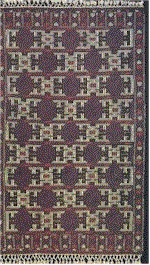 Bokhara

rug

designs have originated from the Samarkand and Bokhara Region.

Bokhara rugs

in ancient times were hand-woven by peoples of Russian Turkistan (Turkmenistan and Uzbekistan).

Bokhara rugs

were primarily the product of Tekke Turkmens but also were made by Sailors, Sarqs, Yomuts, and Ersaris. These famous

Bokhara

designs also come from eastern Iran, Afghanistan, and Pakistan.

Bokhara rugs

hold a high place in history and compete with the best in the world.

Bokharas

are a traditional piece of art suitable for any interior decor.

Bokhara rug popularity has been on the increase in recent years and the quality are workmanship very consistent with ancient methods.

Bokhara rugs (also known as Bukhara) were once mistakenly thought to have been woven near the Uzbek city of Bukhara. Bokharas, famous 'red rugs' of Central Asia, were and are woven by nomadic tribespeople who relied primarily upon the madder plant for the tremendous variety of red and red-brown hues that characterizes By the late 19th century, they came in odd, small sizes and peculiar shapes, and began to find their way to the West.

Bokhara rugs have small, repeating geometric designs and are normally fine quality. A popular Bokhara design, the elephant foot and octagonal 'gul' motifs tend to look best in smaller sizes that make the most of the intricate pattern. Bokhara rugs are not the hardest wearing rugs. Bokharas are recommended more for decorative use than high traffic areas. Bokharas usually come in greens, reds, whites, and browns. You'll hear these referred to as Beshir, Turkoman, or Samarkand.

Bokhara artisans would incorporate a weave cotton warp and weft (old Turkomans were almost always on wool foundation) in a huge variety of qualities, from really bad rugs with fewer than 50 knots per sq. in. to very tightly woven pieces with over 288 knots per sq. in. Most have wool pile, but some have "silk" inlay (a common market name for this type is "Jaldar"). This "silk" is almost always artificial silk--cotton mercerized to look like silk. Ones with artificial silk inlay are usually not very good quality.

They are made of finely spun, soft wool. New Zealand wool is commonly used, and this can make a shiny, glossy finish that almost looks like silk. Fine examples are often closely clipped (so that their intricate designs are crisp and clear), but some are left especially thick for their quality. Red and rust fields are most common colors, but can have ivory, navy, green, slate, teal, peach, rose or orange backgrounds. The most common design consists of rows of "Tekke" guls or medallions (the Tekkes were one of the Turkoman tribes who wove a design so distinctive as to become essentially a totem of the tribe). Other designs also related to Turkoman styles are found, and like Tekkes, these are usually named after the Turkoman tribal group which made the kind they most resemble (examples are Yomud, Salor, and Ersari).
---