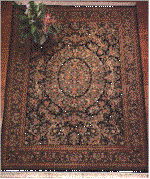 The Aubusson rug takes its name from the French town of Aubusson, a small, picturesque town situated close to the mountains of the Massif Central and lying on the banks of the River Creuse. Although this medieval town ceased to produce rugs over 130 years ago, it was at one time the very centre of Europeís rug manufacturing industry. There was, and still is, an organized industry but no factory; for Aubusson is a center of individual weavers all adhering to a strict form or style of weaving, construction. Carpets made in this manner have no pile and are woven with a traditional thick-thread tapestry weave on looms. The town continues to host a number of tapestry and rug exhibitions each summer.

Aubusson rug production is thought to have begun in the seventeenth century and was carried out by a group of skilled, independent weavers who each followed the specific design and style of the Aubusson technique. This involves interlacing the carpets using a thick-thread weave on large looms to create a flat tapestry with no pile.

Aubusson rugs are widely regarded as one of the most significant designs to come out of Europe along with the French Savonnerie style, also dating back to the 1600ís and 1700ís. Indeed, these carpets and tapestries are so popular that they continue to be reproduced in India and Asia. The Savonnerie carpets of this era were only available to the King who very rarely shared his supplies with others. The demand for similar designs led to the development of the Aubusson rug trade, and for well over two hundred years these designs could be found in the very best houses right across Europe

These rugs often have floral designs with architectural elements and beautiful soft colors. An Aubusson rug is delicate and best used in a room that is not heavily trafficked. It has a very French and formal look to it.
---