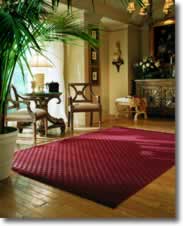 Area rugs have a rich history, and as far back as the 18th century were a result of a worn out by-product of garments, bedding, and household furnishings. These scraps were no longer large enough or strong enough to be re-cut into new garments, reworked into new household textiles, or re-stitched into new quilts. The rags, scraps and snippets from these fabrics were carefully saved, salvaged and converted once more as long strips stitched together, or as small scraps into meager floor coverings we now commonly call area rugs.

Area rugs, whether contemporary or traditional, can really bring a room together in terms of structure and design. Rugs allow color themes and the style of a room's interior to be accentuated by simply repeating these aspects within its design. Area rugs also allow a room's purpose to be defined. Specific areas can be divided up and identified just by placing a rug in the center of that space.

Area rug design today allows for very creative applications. For example, in a very open plan apartment where your living space, eating space and sleeping space are all located within the same four walls, a few well-placed area rugs can immediately define each area as a separate room, thereby giving you a greater feeling of room identity with obvious boundaries determining exactly where one area stops and another one begins. This technique is also extremely useful when arranging furniture and accessories within a large room, as it helps to divide up the different parts of the room.

Area rugs, such as the intricately patterned Persian Serape area rug adds softness to a room and defines the sitting area in front of the fireplace. The handsome, polished hardwood floor is the perfect place to display the deep, rich beauty of this timeless treasure. Or a custom-colored braided area rug which adds an island of texture and color to the sea of soft beige wall-to-wall carpeting. A fabulous French Aubusson which fills an impressive sitting room with stately elegance. The vivid colors of this rug are reflected in the walls, the window treatments and the upholstery on the furniture. These are but a few possibilities that can be accomplished by strategically placing these beautiful accents in various rooms within a home.

Area rugs are available in a variety of different shapes and styles. Whether using round, modern, Oriental, braided or the like, any room will benefit from the warm and inviting appeal these rugs will contribute. And remember, with technological improvements and design capabilities now being incorporated today, your only limited by your own imagination. So go ahead, be bold and daring.

Area rugs look equally good on hard wooden flooring or on carpet, provided the color and patterns of the two do not clash and the lower carpet is of a short pile so that the top rug can be positioned correctly on top. Area rugs have notable advantages over a fitted carpet to define a room as they can easily be moved around to accommodate new furniture and new interior design themes. What is more, should you move to a new house or apartment, they can simply be rolled up and transported over to your new place!


---